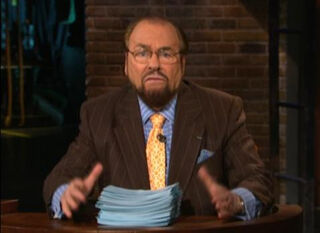 James Lipton (born September 19, 1926) is an American writer, poet and dean emeritus of the Actors Studio Drama School in New York City. He is the executive producer, writer and host of the Bravo cable television series, Inside the Actors Studio, which debuted in 1994.
In Stewie Griffin: The Untold Story, Stewie took a talk show tour in between film segments, appearing on shows such as the Late Show with David Letterman, Inside the Actors Studio with Lipton, and The View. He was voiced by Will Sasso.
He appears as himself in live-action in "Spies Reminiscent of Us" on the set of his show, when Peter Griffin, Glenn Quagmire and Joe Swanson decide to form an improv comedy group.
The cast of Family Guy (minus Mila Kunis) appeared in an episode of Inside the Actors Studio.