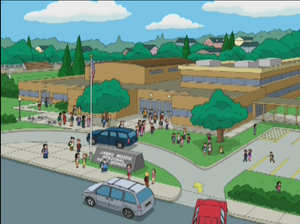 James Woods Regional High School is the high school located in Quahog, Rhode Island attended by Meg, Chris, Neil Goldman, and Connie DiMico. The school is named after actor James Woods, who grew up in Warwick, RI.
Lois Griffin temporarily taught sex education there in "Prick Up Your Ears" until she was fired due to parental complaints regarding the class content.
Dylan Flannigan attended the school while in his father Brian Griffin's custody in "The Former Life of Brian". He dropped out when he went back to his mother, Tracy Flannigan.
Ad blocker interference detected!
Wikia is a free-to-use site that makes money from advertising. We have a modified experience for viewers using ad blockers

Wikia is not accessible if you've made further modifications. Remove the custom ad blocker rule(s) and the page will load as expected.