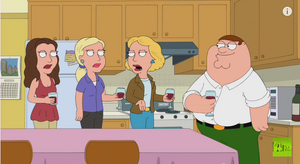 Jamie, Karen & Becca are three female friends of Peter's that he meets in a coffee shop after he feels betrayed by his regular friends when they hurt his feelings after they throw a roast in his honor at his request in "Roasted Guy".
However, after he introduces them to Lois, they start insulting her behind her back. Peter continues to feed them stories about her until Brian brings it to his attention that what he is doing is wrong. Feeling guilty, he confesses to Lois about his activities and finds that she is already aware of what women will do behind other's back, but is surprised to find that she things they talk trash about him behind his own back. Testing Lois' opinion, he discovers it is true, and when he returns to Lois, they work out a plan to extract revenge.
Peter attempts to cut the brakes on Becca's car, but accidentally cuts his own, causing him to drive through traffic and children. He has more luck ruining Jamie's daughter's dream of joining the US Olympic diving team by beating her in a completion and arranges to have the groom stabbed at Karen's daughter's wedding, ruining her perfect day.
Jamie, with golden blonde hair, is voiced by Rachael MacFarlane.
Karen, the brunette, is voiced by Alex Borstein.
Becca, with pale blonde hair, is voiced by Nicole Sullivan.