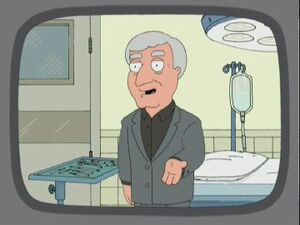 Jamie Farr (born Jameel Joseph Farah, July 1, 1934) is an American television and film actor and popular game show panelist. He is best known for playing the role of cross-dressing Corporal, and later, Sergeant Maxwell Klinger in the 1970s and 1980s United States television sitcom M*A*S*H.
Stewie Griffin appears as Klinger from M*A*S*H in "Fifteen Minutes of Shame".
He provides his own voice in the how-to video for Joe Swanson's leg transplant operation that also doubles as anesthesia in "Believe It or Not, Joe's Walking on Air".
Ad blocker interference detected!
Wikia is a free-to-use site that makes money from advertising. We have a modified experience for viewers using ad blockers

Wikia is not accessible if you've made further modifications. Remove the custom ad blocker rule(s) and the page will load as expected.