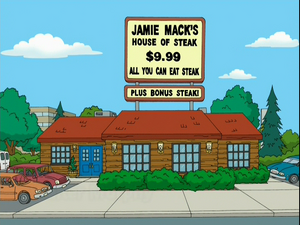 Jamie Mack's House of Steaks is a local Quahog, Rhode Island steakhouse presumably owned by Jamie Mack. Their signature menu item is all-you-can-eat steak priced at $9.99.
In "The Fat Guy Strangler", Peter Griffin, Brian Griffin, Cleveland Brown, Glenn Quagmire, Joe Swanson, and, ironically, the effeminate cow dine here. While the cow debates over whether she should have dessert, Swanson, who is too full to finish his last steak, is pressured into doing so. The annoyance becomes too much to bear, so he shoots the steak multiple times.
Ad blocker interference detected!
Wikia is a free-to-use site that makes money from advertising. We have a modified experience for viewers using ad blockers

Wikia is not accessible if you've made further modifications. Remove the custom ad blocker rule(s) and the page will load as expected.