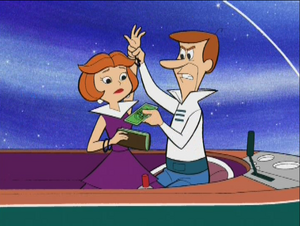 Jane Jetson is a fictional character in the futuristic Hanna-Barbara cartoon series, The Jetsons. She is the wife of George Jetson, mother of their two children, Elroy & Judy, and a homemaker.
In "Brian in Love", George becomes angry with her for leaving him outside on the dog walk in a parody of the show's closing credits.
In "Meet the Quagmires", George killed her for trying to take his wallet from him, instead of the money allowed. It is assumed that he then tossed her out of the space car and she fell to her death.
In "Play It Again, Brian" an artist draws Lois and Brian Griffin as Jane and Snoopy, respectively.