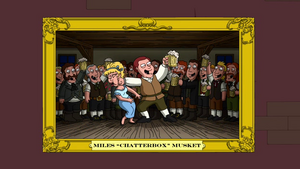 Jane Musket was the wife of Miles "Chatterbox" Musket whose relationship with her was noted for his drinking and beating her, celebrated in a painting in The Drunken Clam.
Meg Griffin noted she performed as Jane in a school play in "Finders Keepers", which none of the other Griffins could watch in its entirety. Between Jane and Miles they had a son, Timmy Musket who died as a child and was buried on Block Island.
Ad blocker interference detected!
Wikia is a free-to-use site that makes money from advertising. We have a modified experience for viewers using ad blockers

Wikia is not accessible if you've made further modifications. Remove the custom ad blocker rule(s) and the page will load as expected.