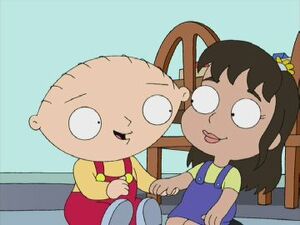 Janet is a toddler Stewie Griffin develops a crush on at Hugs and Kisses Daycare in "Dammit Janet!".
She seemed to be oblivious to Stewie's admiration and continuously asks for cookies. In the end Stewie realizes all she wants is his, and anyone else's cookies and does not return his love. She has green eyes. She is voiced by Tara Strong.
Ad blocker interference detected!
Wikia is a free-to-use site that makes money from advertising. We have a modified experience for viewers using ad blockers

Wikia is not accessible if you've made further modifications. Remove the custom ad blocker rule(s) and the page will load as expected.