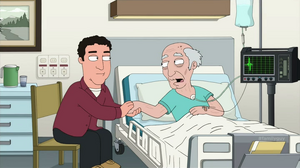 Jason Matthew Biggs (born May 12, 1978) is an American actor, known for his work in the American Pie series, the 2012 Teenage Mutant Ninja Turtles TV series and Orange Is the New Black.
Evan points out to Meg that people need encouragement when she is reluctant to become a foot-fetish model in "This Little Piggy" by noting that Jason received encouragement from his grandfather. In a cutaway, Jason's grandfather's encouragement is to become nobody famous, in which Jason celebrates when he realizes he has succeeded.
Jason is voiced by Seth Green.