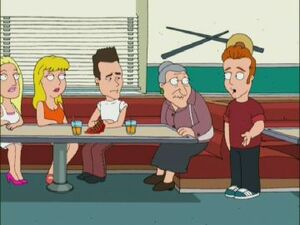 Jason Bradford Priestley is a Canadian-American actor and film director. He is best known as the virtuous Brandon Walsh on the television series Beverly Hills, 90210, a role which catapulted him to recognition in the early 1990s.
In Stewie Griffin: The Untold Story, Jennie Garth, Priestley, Luke Perry, and Tori Spelling, and Shannen Doherty appear in a cutaway that parodies his portrayal of Walsh, who was a teenager when Priestley, then in her mid-20s, began portraying him.
Ad blocker interference detected!
Wikia is a free-to-use site that makes money from advertising. We have a modified experience for viewers using ad blockers

Wikia is not accessible if you've made further modifications. Remove the custom ad blocker rule(s) and the page will load as expected.