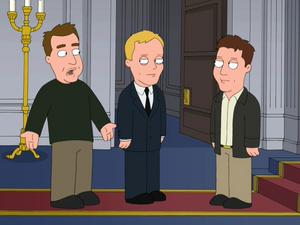 Jason Jordan Segel (born January 18, 1980) is a comedic actor. He is known for his role as Marshall Eriksen in How I Met Your Mother. Segel also starred in the films Bad Teacher, Despicable Me and the 2011 Muppet movie.
He plays himself then reprises the role of Marshall Eriksen in "Peter's Progress".
Ad blocker interference detected!
Wikia is a free-to-use site that makes money from advertising. We have a modified experience for viewers using ad blockers

Wikia is not accessible if you've made further modifications. Remove the custom ad blocker rule(s) and the page will load as expected.