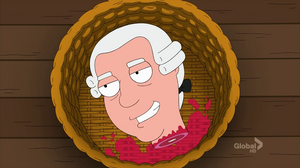 Jean De Menard is the understudy to Louis XVI during his death by guillotine in "Brian's Play". Although Jean is visibly nervous, one of the guards reassures him that he'll do great. After his beheading, he smiles and note that he "nailed it."
Ad blocker interference detected!
Wikia is a free-to-use site that makes money from advertising. We have a modified experience for viewers using ad blockers

Wikia is not accessible if you've made further modifications. Remove the custom ad blocker rule(s) and the page will load as expected.