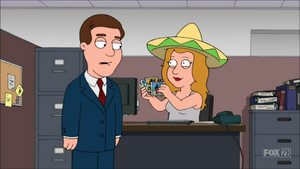 Jeanine is a character in Two Lame Chicks on Vacation in Mexico, a television movie that Meg watches with Quagmire in "Quagmire and Meg". As the girls loudly and repeatedly announce their excitement that they're in Mexico, back home, Jeanine's boss expresses frustration with her continued excitement over her trip and when her friend calls, she quietly tells her she can't talk.
Ad blocker interference detected!
Wikia is a free-to-use site that makes money from advertising. We have a modified experience for viewers using ad blockers

Wikia is not accessible if you've made further modifications. Remove the custom ad blocker rule(s) and the page will load as expected.