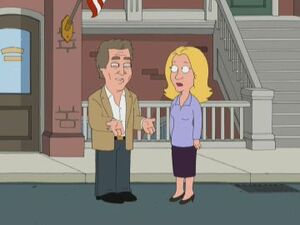 Jeffrey Leon "Jeff" Bridges (born December 4, 1949) is an American actor and musician. His most notable films include The Last Picture Show, Thunderbolt and Lightfoot, Tron, Tron: Legacy, Starman, The Fabulous Baker Boys, The Fisher King, Fearless, The Big Lebowski, The Contender, Iron Man, and Crazy Heart, for which he won the Academy Award for Best Actor in a Leading Role at the 82nd Academy Awards.
In "Ocean's Three and a Half", Glenn Quagmire considers using Carter Pewterschmidt's money to make a movie with B-list stars. He imagines a trailer of Danger in Cincinnati, starring Bridges and Laura Linney.
Ad blocker interference detected!
Wikia is a free-to-use site that makes money from advertising. We have a modified experience for viewers using ad blockers

Wikia is not accessible if you've made further modifications. Remove the custom ad blocker rule(s) and the page will load as expected.