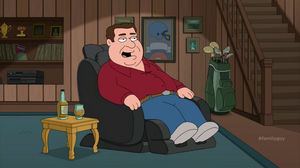 Jeffrey "Jeff" Garlin (born June 5, 1962) is an American comedian, actor, producer, voice artist, director, writer, podcast host and author. He has numerous acting credits, but is known for his work in Curb Your Enthusiasm and The Goldbergs.
Jeff provides his own voice for a cutaway in "The 2000-Year-Old Virgin" when Peter admires an expensive massage chair at Brookstone, noting that Jeff must have one at his place. As the scene cuts to Jeff, he calls for a dog in a Jet's football jersey to appear in the scene.
Ad blocker interference detected!
Wikia is a free-to-use site that makes money from advertising. We have a modified experience for viewers using ad blockers

Wikia is not accessible if you've made further modifications. Remove the custom ad blocker rule(s) and the page will load as expected.