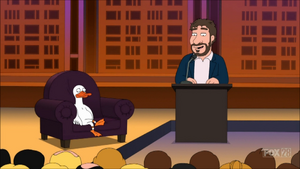 Jeff Ross (born Jeffrey Ross Lifschultz; September 13, 1965), aka the Roastmaster General, is an American stand-up comedian, insult comic, actor, director and author. He is best known for his appearances at various comedy roast events, especially at the Friars' Club and on Comedy Central.
Jeff voices himself in "Killer Queen" when Peter insists the campers at Camp Fresh Start are sitting ducks. A cutaway shows Jeff poking fun at a duck.
Jeff roasts Robin Williams in "Family Guy Viewer Mail No. 2".
Ad blocker interference detected!
Wikia is a free-to-use site that makes money from advertising. We have a modified experience for viewers using ad blockers

Wikia is not accessible if you've made further modifications. Remove the custom ad blocker rule(s) and the page will load as expected.