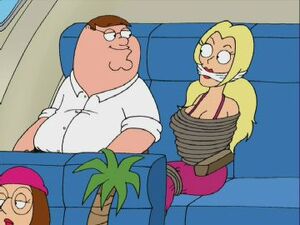 Jenna Jameson (born Jenna Marie Massoli; April 9, 1974) is an American entrepreneur and former pornographic star, who has been called the world's most famous adult-entertainment performer and "The Queen of Porn". She started acting in erotic videos in 1993 after having worked as a stripper and glamour model.
In "Brian Does Hollywood", she was cast in an adult film directed by Brian Griffin, also starring Samuel L. Jackson. The film was nominated for an Adult Movie Award. She was later kidnapped by Peter as a souvenir from their Hollywood vacation. He had her tied up in the back of the plane. She voiced herself.
Ad blocker interference detected!
Wikia is a free-to-use site that makes money from advertising. We have a modified experience for viewers using ad blockers

Wikia is not accessible if you've made further modifications. Remove the custom ad blocker rule(s) and the page will load as expected.