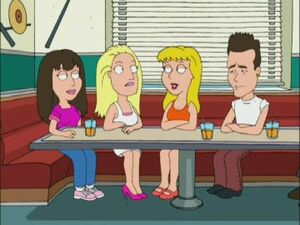 Jennifer Eve Garth is an American actress, best known for starring in the prominent role of Kelly Taylor throughout the Beverly Hills, 90210 franchise. She is also known for starring as Valerie Tyler in What I Like About You with Amanda Bynes.
In Stewie Griffin: The Untold Story, Garth, Jason Priestley, Luke Perry, and Tori Spelling parody their teenage characters despite their own advanced age.
Ad blocker interference detected!
Wikia is a free-to-use site that makes money from advertising. We have a modified experience for viewers using ad blockers

Wikia is not accessible if you've made further modifications. Remove the custom ad blocker rule(s) and the page will load as expected.