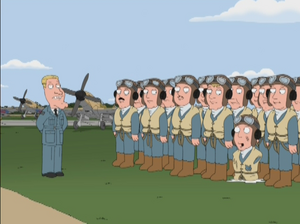 Jensen was a member of the British Royal Air Force in World War II. He appeared in "Road to Germany". Due to several other battle efforts, he has gone through many amputations, resulting in the loss of his arms and whole lower body. Even though the situation became bad, he still was able to keep his hopes up.
Ad blocker interference detected!
Wikia is a free-to-use site that makes money from advertising. We have a modified experience for viewers using ad blockers

Wikia is not accessible if you've made further modifications. Remove the custom ad blocker rule(s) and the page will load as expected.