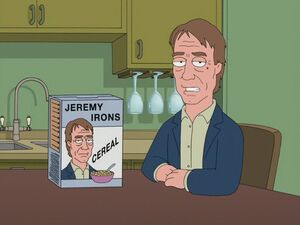 Jeremy John Irons (born September 19, 1948) is an English film, television, and stage actor. He has won an Academy Award, a Tony Award, two Emmy Awards, two Golden Globes, and a Screen Actors Guild Award, in addition to many other awards and honors. He is known for his deep bass voice and is also a voice actor, notably as Scar in The Lion King.
Irons serves as spokesperson and product basis for Pewterschmidt Industries' new product, Jeremy Irons Cereal in "Business Guy", with temporary CEO Peter Griffin's support.
While working as James Woods's agent in "Tom Tucker: The Man and His Dream", Peter and James receive a proposal for a script that Craig T. Nelson, Jeff Goldblum and Jeremy Irons had already rejected.