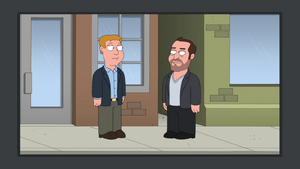 Jeremy Samuel Piven (born July 26, 1965) is an American film producer and actor best known for the television series Entourage for which he has won one Golden Globe Award and three consecutive Emmy Awards.
In "Chap Stewie", Piven stars in The Incredible Hulk in which he states that a passer-by wouldn't like him angry and is told he isn't liked at present.
Ad blocker interference detected!
Wikia is a free-to-use site that makes money from advertising. We have a modified experience for viewers using ad blockers

Wikia is not accessible if you've made further modifications. Remove the custom ad blocker rule(s) and the page will load as expected.