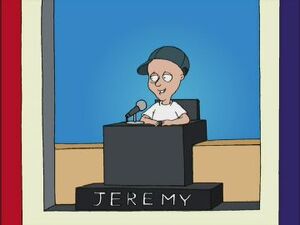 Jeremy is a terminally ill boy who appears infrequently on Family Guy.
His wish to be a celebrity square on Hollywood Squares was granted by the Grant-A-Dream Foundation in "If I'm Dyin', I'm Lyin'".
He was at the Boston Red Sox game in "Mr. Griffin Goes to Washington". He was about to catch a home run ball when Peter Griffin snatched it away.
Starting in "Mr. Saturday Knight", the site of the Happy-Go-Lucky Toy Factory is turned into a center to provide care for the terminally ill. It is unknown if Jeremy became a resident.
In "Stuck Together, Torn Apart", he picked out new kidneys at CostMart with his mother.
In It's A Trap!, he appears in Emperor Palpatine's, played by Carter Pewterschmidt, honor guard. In another wish, he gets to tour the Death Star
Filmography
Ad blocker interference detected!
Wikia is a free-to-use site that makes money from advertising. We have a modified experience for viewers using ad blockers

Wikia is not accessible if you've made further modifications. Remove the custom ad blocker rule(s) and the page will load as expected.