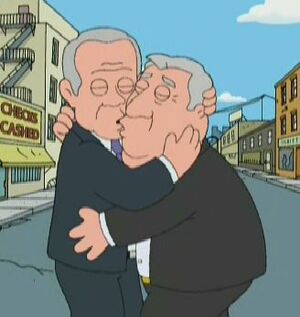 Jerry Lamon Falwell, Sr. (August 11, 1933 - May 15, 2007) was an American evangelical Christian pastor, televangelist, and a conservative commentator. He was the founding pastor of the Thomas Road Baptist Church, a megachurch in Lynchburg, Virginia. He founded Lynchburg Christian Academy (now Liberty Christian Academy) in 1967, Liberty University in 1971, and cofounded the Moral Majority in 1979.
In "Road to Rupert", after the rapture and everyone else is gone, he and Pat Robertson are the only ones left. They start to pick things to hate and instead fall in love with each other.
Ad blocker interference detected!
Wikia is a free-to-use site that makes money from advertising. We have a modified experience for viewers using ad blockers

Wikia is not accessible if you've made further modifications. Remove the custom ad blocker rule(s) and the page will load as expected.