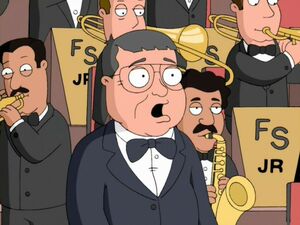 Jerry Lewis (born Joseph Levitch, March 16, 1926 – August 20, 2017) was an American comedian, actor, film producer, writer, film director and singer. He was best known for his slapstick humor in stage, radio, screen, recording and television. He was originally paired up with Dean Martin in 1946, forming the comedy team of Martin and Lewis. In addition to the team's popular nightclub work, they starred in a successful series of comedy films for Paramount Pictures. As an innovative filmmaker, Lewis was credited with inventing the video assist system in cinematography. Lewis was also known for his charity fund-raising telethons and position as national chairman for the Muscular Dystrophy Association (MDA).
In "Brian Sings and Swings", he is "the Jew" that replaces Brian for Frank Sinatra, Jr.'s nightly performances at the Quahog Cabana Club.
"Brian & Stewie" introduced an instrumental musical number cut from "Business Guy" called Errand Boy based on a performance in the Jerry Lewis film The Errand Boy featuring the instrumental "Blues in Hoss' Flat" by Count Basie and his orchestra.[1]
Quagmire being popular in France in "Bigfat" mimics the popularity of Jerry Lewis.[2] In Quagmire's comedy film, he is also dressed reminiscent of Jerry Lewis.
Seth MacFarlane stated that Quagmire's catchphrase "Giggity giggity" stemmed from Steve Marmel's impression of Lewis. [3]