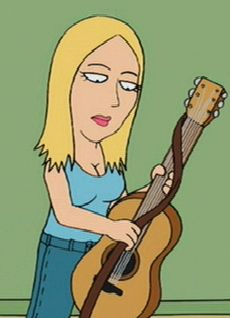 Jewel Kilcher, (born May 23, 1974) professionally known as Jewel, is an American singer-songwriter, guitarist, actress, and poet. She has received three Grammy Award nominations and has sold twenty-seven million albums worldwide, and almost twenty million in the United States alone.
In "The Story on Page One", Ricky Martin is shown just having escaped a horde of fans. He puts on makeup and a wig and proceeds out another door as Jewel.
In "Death Is a Bitch", she was a possible musical guest on an episode of Adolf Hitler's possible self-titled talk show, as her CD is seen in Hitler's hands, a custom for late-night talk show hosts when their musical guest is promoting an album.
Ad blocker interference detected!
Wikia is a free-to-use site that makes money from advertising. We have a modified experience for viewers using ad blockers

Wikia is not accessible if you've made further modifications. Remove the custom ad blocker rule(s) and the page will load as expected.