Jim Carrey
Talk

0
4,777pages on
this wiki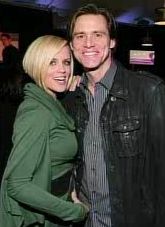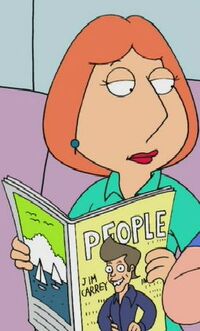 James Eugene "Jim" Carrey (born January 17, 1962) is a Canadian-American actor and stand-up comedian. Carrey is best known for his performances as multiple characters in the sketch comedy show In Living Color, as the title character in Ace Ventura: Pet Detective and Ace Ventura: When Nature Calls, as lawyer Fletcher Reede in Liar Liar, and as the unlucky TV reporter Bruce Nolan in Bruce Almighty. Carrey has also achieved critical success in dramatic roles in films such as The Truman Show, Man on the Moon, and Eternal Sunshine of the Spotless Mind. His other roles include those in Hollywood blockbuster films such as The Mask, Dumb and Dumber, How the Grinch Stole Christmas, Lemony Snicket's A Series of Unfortunate Events, and Fun with Dick and Jane.
Carrey appears on the cover of People Magazine in "Mr. Griffin Goes to Washington". Lois repeats his catch phrase from The Mask, "Sssmokin", much to Brian's annoyance.
He appears in a photo shot with then-girlfriend Jenny McCarthy when Stewie compares Meg and Luke to when a crazy girl hooks up with an even crazier guy in "Dial Meg for Murder".