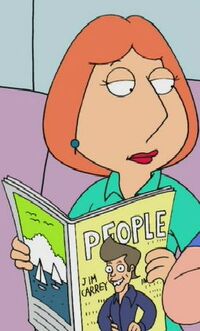 James Eugene "Jim" Carrey (born January 17, 1962) is a Canadian-American actor and stand-up comedian, known for his performances in the sketch comedy show In Living Color, in Ace Ventura: Pet Detective and Ace Ventura: When Nature Calls, The Mask and Bruce Almighty. Carrey has also achieved critical success in dramatic roles in films such as The Truman Show, Man on the Moon, and Eternal Sunshine of the Spotless Mind.
Carrey appears on the cover of People Magazine in "Mr. Griffin Goes to Washington". Lois repeats his catch phrase from The Mask, "Sssmokin", much to Brian's annoyance.
He appears in a photo shot with then-girlfriend Jenny McCarthy when Stewie compares Meg and Luke to when a crazy girl hooks up with an even crazier guy in "Dial Meg for Murder".