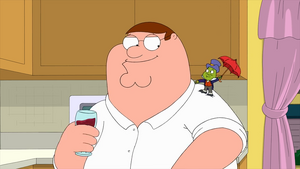 Jiminy Cricket is a fictional character created by Carlo Collodi for his children's book The Adventures of Pinocchio, which Disney adapted into the animated film Pinocchio in 1940. He was appointed by the Blue Fairy in the Disney film to serve as Pinocchio's official conscience. Since his debut in Pinocchio, he made numerous other appearances.
In "Roasted Guy", Peter starts to feel bad about letting his new friends Jamie, Karen & Becca trash talk Lois. But when Jiminy arrives to advise him, he is startled by his-bug appearance and smashes him, leaving his widowed wife Andrea to continue to set a place for him at the dinner table as her friend tries to bring her out of her funk by claiming that Jiminy hit on her at their wedding. Andrea is voiced by Cristin Milioti.
While trying to identify an Indian cricketer on a game show in "Road to India", Brian incorrectly guesses Jiminy Cricket.
Ad blocker interference detected!
Wikia is a free-to-use site that makes money from advertising. We have a modified experience for viewers using ad blockers

Wikia is not accessible if you've made further modifications. Remove the custom ad blocker rule(s) and the page will load as expected.