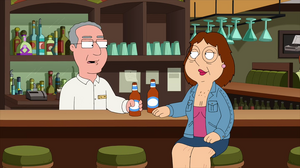 Jimmy is Meg's bartender in a future imagined by Peter when he is surprised that Meg is actually considered a good student in "Meg Stinks!".
In Peter's vision of Meg's future, she hangs out in a bar, trying to pick up guys and watching hockey in a jean jacket, while Jimmy treats her to a beer for Christmas.
Jimmy is voiced by Danny Smith.