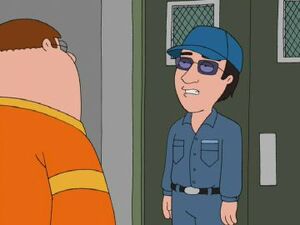 Jimmy Iovine (born March 11, 1953) is a music producer, entrepreneur and chairman of Interscope-Geffen-A&M. He is credited with having given Eminem's demo tape to Dr. Dre who signed him to his Aftermath label. In 2002, Iovine co-produced the hit Eminem movie, 8 Mile.
He appears in "Don't Make Me Over" in prison for stomping a cat. He recommended that Meg and the Griffins become professional. He voices himself.
Ad blocker interference detected!
Wikia is a free-to-use site that makes money from advertising. We have a modified experience for viewers using ad blockers

Wikia is not accessible if you've made further modifications. Remove the custom ad blocker rule(s) and the page will load as expected.