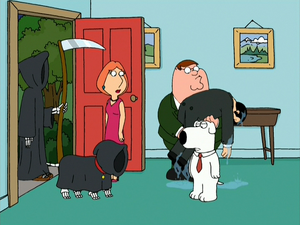 James Christian "Jimmy" Kimmel (born November 13, 1967) is an American television host and comedian. Before his current position as host of Jimmy Kimmel Live! on ABC, Kimmel was well known as co-host of Comedy Central's The Man Show with Adam Carolla who is the voice of Death.
Jimmy provided the voice of Death's Dog in "Mr. Saturday Knight".
Ad blocker interference detected!
Wikia is a free-to-use site that makes money from advertising. We have a modified experience for viewers using ad blockers

Wikia is not accessible if you've made further modifications. Remove the custom ad blocker rule(s) and the page will load as expected.