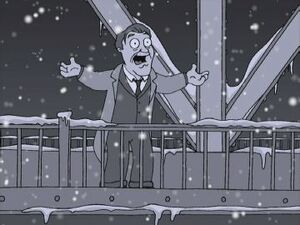 James Maitland "Jimmy" Stewart (May 20, 1908 – July 2, 1997) was an American film and stage actor. Over the course of his career, he starred in many films widely considered classics and was nominated for five Academy Awards, winning one in competition and receiving one Lifetime Achievement award.
Throughout his seven decades in Hollywood, Stewart cultivated a versatile career and recognized screen image in such classics as Mr. Smith Goes to Washington, The Philadelphia Story, Harvey, It's a Wonderful Life, Rear Window, Rope and Vertigo.
Jimmy Stewart is performing his role of George Bailey in It's a Wonderful Life. Just when he decides he wants to live, Lois Griffin, in her rampage through Quahog, pushes him, as Bailey, off a bridge in "A Very Special Family Guy Freakin' Christmas".
The ending to It's a Wonderful Life is parodied in "The Giggity Wife". Instead of saying angels get wings, George's daughter refers to Quagmire vowing to sleep with a man when a bell rings.