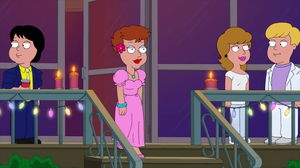 JoAnne Fuller is the "plain" girl at school.
When Peter and the guys become desperate to try something after The Drunken Clam is closed following the death of Horace in "Save the Clam", they try the "big end-of-the-year high school party that could change everything." Peter strikes up a conversation with Amanda Small, the hottest girl in school who notes that he is going out with JoAnne Fuller. He brushes it aside, noting that they are long-term friends and neighbors. When "Jo-Jo" shows up for Peter following an extensive makeover that leaves Peter stunned, Peter dumps Amanda under the law of '80s movies in which a transformed tomboy supersedes her long-standing hotness and pushes her aside for JoAnne. As they stare into each other's eyes and embrace, JoAnne picks up Peter and carries him off.
Ad blocker interference detected!
Wikia is a free-to-use site that makes money from advertising. We have a modified experience for viewers using ad blockers

Wikia is not accessible if you've made further modifications. Remove the custom ad blocker rule(s) and the page will load as expected.