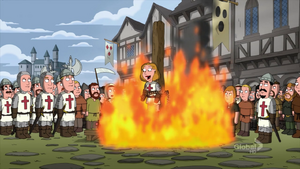 Joan of Arc (ca. 1412 – 30 May 1431), is a national heroine of France and a Roman Catholic saint. A peasant girl born in eastern France who claimed divine guidance, she led the French army to several important victories during the Hundred Years' War, which paved the way for the coronation of Charles VII. She was captured by the Burgundians, transferred to the English in exchange for money, put on trial by the pro-English Bishop of Beauvais for charges of "insubordination and heterodoxy," and burned at the stake as a heretic when she was 19 years old.
Stewie notes that strong women always turn out to be nightmares when Penelope decides to kill Brian in "Mr. and Mrs. Stewie". A cutaway shows an obnoxious Kathy Griffin-style Joan of Arc goading the troops into burning her just to get rid of her.
Joan of Arc is voiced by Alex Borstein.