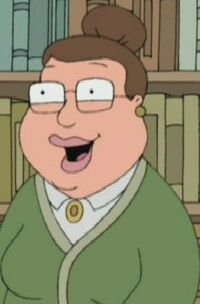 Joanna is a recurring character, who first appears in "Petergeist" and then later on in "Movin' Out (Brian's Song)". She works in a library and is invited to a surprise party Stewie organized for Brian. She is known to have a very annoying way of laughing and usually laughs at her own jokes. However, she is very well liked by Stewie, who took an instant liking to her upon their first encounter.
Ad blocker interference detected!
Wikia is a free-to-use site that makes money from advertising. We have a modified experience for viewers using ad blockers

Wikia is not accessible if you've made further modifications. Remove the custom ad blocker rule(s) and the page will load as expected.