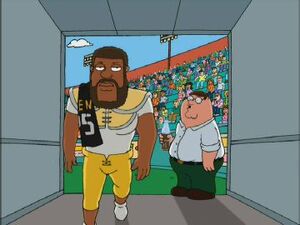 Charles Edward Greene, known as "Mean Joe" Greene, (born September 24, 1946) is a former all-pro American football defensive tackle who played for the Pittsburgh Steelers of the National Football League. Throughout the early 1970s he developed into arguably the most dominant defensive lineman in the NFL. He is considered by many to be one of the best defensive linemen to ever play the game and was the cornerstone of the famous "Steel Curtain" defense. He is also a member of the Pro Football Hall of Fame and a four-time Super Bowl champion.
He is seen in "Peter, Peter, Caviar Eater" in a parody of a famous 1970s Coca-Cola commercial where he throws his jersey to a little boy that offers him his Coke after a tough game. In this case, he throws Peter Griffin all of his clothes including his underwear. It should be noted the name on the back of the jersey is spelled "Green" instead of "Greene".
In "Road to Germany", he threw Stewie Griffin some uranium for his time machine while at Nazi headquarters in Berlin. Ironically, the first time the commercial aired was the 40-year-anniversary of the German invasion of Poland, September 1, 1979 and 1939 respectively.
He is voiced by Kevin Michael Richardson.