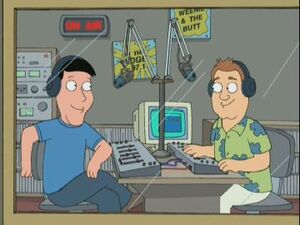 Joe Lomonaco is the radio host and production director of the 5 O'clock News Hour at WHAM 1180-AM in Rochester, New York.
Joe provides the voice of Weenie of the Weenie and the Butt radio team in "Mother Tucker", "Stewie Goes for a Drive" and "Roads to Vegas".
Ad blocker interference detected!
Wikia is a free-to-use site that makes money from advertising. We have a modified experience for viewers using ad blockers

Wikia is not accessible if you've made further modifications. Remove the custom ad blocker rule(s) and the page will load as expected.