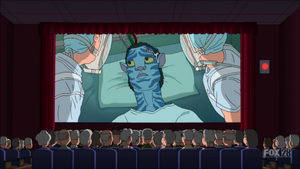 Joel David Moore (born September 25, 1977) is an American actor, best known for appearances in Dodgeball: A True Underdog Story, Avatar, Bones and Hatchet.
Joel provides the voice of the old man asking if the reason the characters are blue is if it is cold on the planet during the screening of Avatar in "Grumpy Old Man".
Ad blocker interference detected!
Wikia is a free-to-use site that makes money from advertising. We have a modified experience for viewers using ad blockers

Wikia is not accessible if you've made further modifications. Remove the custom ad blocker rule(s) and the page will load as expected.