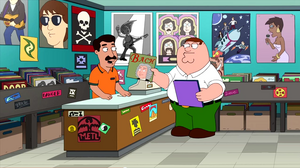 Johann Sebastian Bach (31 March 1685 – 28 July 1750) was a German composer, organist, harpsichordist, violist, and violinist of the Baroque period.
During "Mr. Booze" in "Friends of Peter G", Ollie Williams finds himself unable to express himself by naming Bach as one of his favorite composers after suffering from alcoholism, and is only able to blurt out Cher.
When Lois considers looking for work in "Peter Problems", Peter decides that it may give him time to expand his record collection. In an ensuing cutaway, he considers purchasing albums by Wolfgang Amadeus Mozart, Johann Sebastian Bach and Claude Debussy.
Meg plays Bach's "Cello Suite No. 1 in G Major" on the cello in "American Gigg-olo".