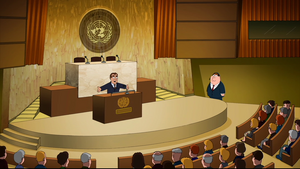 Johann Urb (born 24 January 1977) is an Estonian-born American actor and former model, known for his appearances in The Hottie and the Nottie, Eastwick, Resident Evil: Retribution and NCIS.
Johann provides the voice of the ambassador while Peter served as a UN interpreter in "12 and a Half Angry Men".
Ad blocker interference detected!
Wikia is a free-to-use site that makes money from advertising. We have a modified experience for viewers using ad blockers

Wikia is not accessible if you've made further modifications. Remove the custom ad blocker rule(s) and the page will load as expected.