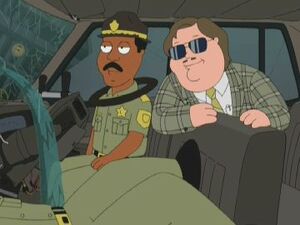 John Franklin Candy (October 31, 1950 – March 4, 1994) was a Canadian-American comedian and actor. He rose to fame as a member of the Toronto, Ontario branch of The Second City. One of his most regarded on-screen performances was that of Del Griffith in the John Hughes comedy Planes, Trains and Automobiles. He died of a heart attack at the age of 43.
In the DVD version of "Road to Germany", he appears in his role as The Blues Brothers' parole officer, but rather for Nazis.
Ad blocker interference detected!
Wikia is a free-to-use site that makes money from advertising. We have a modified experience for viewers using ad blockers

Wikia is not accessible if you've made further modifications. Remove the custom ad blocker rule(s) and the page will load as expected.