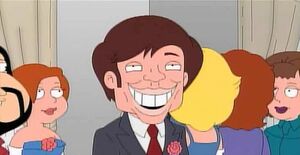 John Hamilton Davidson, Sr. (born December 13, 1941) is an American singer, actor and game show host known for hosting That's Incredible!, Time Machine, and Hollywood Squares in the 1980s, and a revival of The $100,000 Pyramid in 1991.
John Davidson appears in Quagmire's flashback of dating Cheryl Tiegs in the 1980s in "Tiegs for Two". When Cheryl introduces John to Quagmire at a party, Quagmire is disinterested and annoys Cheryl into leaving, causing John to lead the party into remarking "That's Incredible!" that Quagmire would break up with her.
He is voiced by Seth MacFarlane.