For the politician, see: John Edwards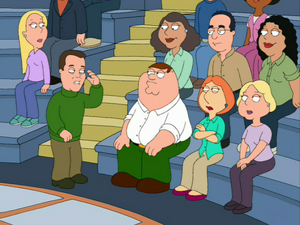 John Edward McGee, Jr. (born October 19, 1969) is an American television personality, and psychic medium. He is best known for his TV shows Crossing Over with John Edward and John Edward Cross Country, both of which are premised on Edward communicating with the spirits of the audience members' deceased relatives.
He appears in "The Cleveland-Loretta Quagmire" where he coaches Peter Griffin along until he gets the answer he wants.
Ad blocker interference detected!
Wikia is a free-to-use site that makes money from advertising. We have a modified experience for viewers using ad blockers

Wikia is not accessible if you've made further modifications. Remove the custom ad blocker rule(s) and the page will load as expected.