For the psychic, see: John Edward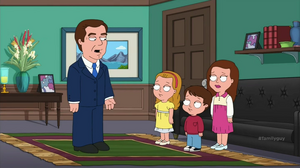 Johnny Reid "John" Edwards (born June 10, 1953) is an American politician, who served as a U.S. Senator from North Carolina. He was the Democratic nominee for Vice President in 2004, and was a candidate for the Democratic presidential nomination in 2004 and 2008. On June 3, 2011, Edwards was indicted by a North Carolina grand jury on six felony charges of violating multiple federal campaign contribution laws to cover up an extramarital affair he admitted to following his 2008 campaign.
Meg compares Peter and Lois to John Edwards as an example of bad parents in "This Little Piggy". John is shown dumping his kids to go to another woman as he tells them about their mother's cancer.