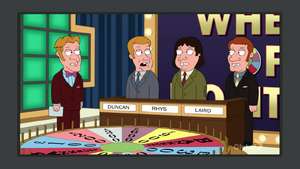 John David Finnemore (born 28 September 1977) is a British comedy writer and actor, known for his radio sitcom Cabin Pressure, John Finnemore's Souvenir Programme, and The Now Show.
John provides the voice of the host of Wheel of Politeness in the "Chap of the Manor" segment of "Family Guy Viewer Mail No. 2".
Ad blocker interference detected!
Wikia is a free-to-use site that makes money from advertising. We have a modified experience for viewers using ad blockers

Wikia is not accessible if you've made further modifications. Remove the custom ad blocker rule(s) and the page will load as expected.