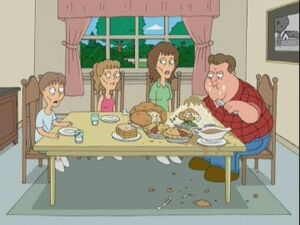 John Stephen Goodman (born June 20, 1952) is an American film, television, and stage actor. He is best known for his role as Dan Conner on the ABC television series, Roseanne, as well as his work with the Coen brothers, and as the voice of James P. "Sulley" Sullivan in the film, Monsters, Inc..
In "Brian Sings and Swings", a cutaway depicts him as a glutton eating his now-emaciated family's entire Thanksgiving feast. In real life, interestingly he only has a daughter. He does not have a son.
Stewie Griffin said that his father, Peter, once replaced Goodman as Conner for a time on Roseanne, as revealed in Stewie Griffin: The Untold Story.
During Stewie's dinner date with Jillian Russell, he uses Goodman as an example of a fat person to force Jillian to purge herself so he can get her teeth in "Prick Up Your Ears".
He appears in a cutaway in "The Most Interesting Man in the World", where he gets scared after hearing his heartbeat.
John appears in a role inspired by Peter's own participation of "Peternormal Activity" in the guy's horror movie titled Cereal Killer. Here, John is voiced by Jeff Bergman.
When Peter develops measles in "Hot Shots", Stewie sets up a cutaway about John's health, in which his EKG spells "pancakes" and requires horses that make him look like he can walk.