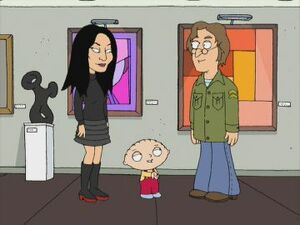 John Winston Ono Lennon, MBE (9 October 1940 – 8 December 1980) was an English musician and singer-songwriter who achieved worldwide fame as one of the founding members of The Beatles. Lennon and Paul McCartney formed one of the most successful songwriting partnerships of the 20th century. A successful solo career followed, with aid from his relationship with Yoko Ono.
In "Ready, Willing, and Disabled", Stewie Griffin recalls setting Lennon and Ono up.
In "Stewie Kills Lois", he is seen practicing with his bandmates when drummer Ringo Starr comes in with his new song.
In "Brian Writes a Bestseller", Brian refers to his past thoughts on John, thinking he was a jerk.
Ad blocker interference detected!
Wikia is a free-to-use site that makes money from advertising. We have a modified experience for viewers using ad blockers

Wikia is not accessible if you've made further modifications. Remove the custom ad blocker rule(s) and the page will load as expected.