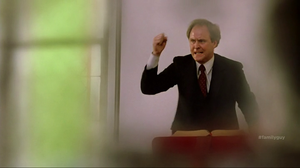 John Arthur Lithgow (born October 19, 1945) is an American actor, musician, and author.
When Peter explains to Jerome that he channels his anger by dancing like Footloose in "Baby Got Black", an image of John from the film appears during his routine.
Ad blocker interference detected!
Wikia is a free-to-use site that makes money from advertising. We have a modified experience for viewers using ad blockers

Wikia is not accessible if you've made further modifications. Remove the custom ad blocker rule(s) and the page will load as expected.