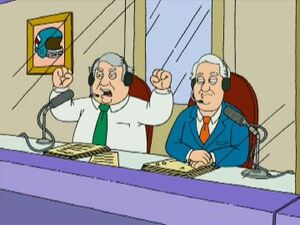 John Madden (born April 10, 1936) is an American former football player in the National Football League, a former NFL head coach with the Oakland Raiders and a former color commentator for NFL telecasts. In 2006, he was inducted into the Pro Football Hall of Fame in recognition of his coaching career. He is also widely known for the long-running Madden NFL video game series he has endorsed and fronted since 1988.
Madden broadcast with Pat Summerall in the 1980s and 1990s, on CBS and later FOX. He was also the last color commentator for ABC's Monday Night Football before it moved to ESPN in 2006. His last regular role was as a commentator for NBC's Sunday Night Football.
Madden and Pat Summerall call Super Bowl XXXIII for FOX in "Death Has a Shadow", which in reality they had done only hours earlier. He witnesses Summerall retrieving some of Peter Griffin's returned welfare money. He is the one who ordered FOX security to shoot down Griffin's blimp.
Madden can also be seen during the "Shipoopi" performance in "Patriot Games" in the broadcast booth calling the game.
When Brian and Frank Sinatra Jr. open the Quahog Cabana Club in "Tales of a Third Grade Nothing", Stewie comments that they will fail sooner than John Madden's Wedding Video business. A sample video from "Mike and Stacy's Wedding" with Madden providing voice-over commentary.
In "Death Has a Shadow", Madden is voiced by Fred Tatasciore. In "Tales of a Third Grade Nothing", he is voiced by John Viener.