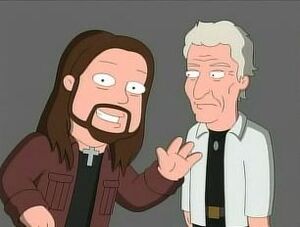 John Payne (born September 29, 1958) is a British musician, best known as the lead singer and bassist of Asia from 1992 to 2006. In 2006 the original 1982 line up reformed and Payne's band has operated since June 2007 as "Asia Featuring John Payne", by legal arrangement with the original lineup. While Payne was in the band, they released over 15 albums. He is also a guitarist, composer, recording engineer and record producer.
Payne appears in "The Splendid Source" where he is introduced simply as "Lead Singer of Asia." A clip of the 1981 song "Only Time Will Tell" plays, producing a curious mixture of both versions of Asia. He takes advantage of the fact that the ex-wife of REO Speedwagon's lead singer Kevin Cronin will get money if any of REO's music plays.
He is voiced by actor Ioan Gruffudd.