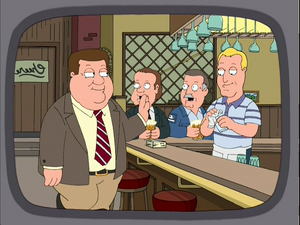 John Deszo Ratzenberger (born April 6, 1947) is an American actor and voice actor, best known for his role as Cliff Clavin in Cheers and voice roles in all Pixar films.
His character Clavin appeared in an episode of Cheers that Peter Griffin was watching in "Road to Rupert", pretending to be his co-star as an attempt to entertain himself without a driver's license.
Ad blocker interference detected!
Wikia is a free-to-use site that makes money from advertising. We have a modified experience for viewers using ad blockers

Wikia is not accessible if you've made further modifications. Remove the custom ad blocker rule(s) and the page will load as expected.